Vietnam pesticides market to reach $1.2 billion by 2022
Views: 18 Author: Site Editor Publish Time: 2017-05-04 Origin: Site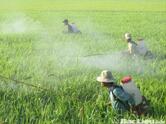 Vietnam's imports of pesticide reached some 180 million U.S. dollars in the first quarter of 2017, up 7.5 percent year-on-year, the Vietnamese Ministry of Agriculture and Rural Development said.

During the period, China came top as the largest supplier of Vietnam, accounting for over 50 percent of the expenditure.

In March alone, Vietnam spent nearly 58 million U.S. dollars on importing pesticide.

In the first two months, the value of Vietnam's pesticide imports from China rose by 29.4 percent as opposed to the largest decrease of 44.6 percent in imports from Malaysia.

Meanwhile, pesticide imports from India, Germany and Thailand also saw significant increase of 25 percent, 35 percent and 17 percent, respectively, according to the ministry.
The Vietnam pesticides market is estimated to grow at a CAGR of 6.8% in 2017-2022 period, according to a newly published report from Mordor Intelligence.

The market value estimated during 2016 was USD 853.24 million and it is expected that the value will reach to USD 1266 million by 2022. Currently the market is low regulatory, less technologically advanced and less competitive and has good opportunities for growth in biopesticides segment. Agriculture is the most important economic sector in the country and more than 70% of the Vietnam's population is dependent on this sector. Currently, agricultural land occupies the 80% of the country's area and as a large agricultural producer, country offers much opportunities for growth of agrochemical companies.

In Vietnam, the crop protection industry has been witnessing a relatively steady to high growth due to growing demand of agricultural produce in the region. While the prevalence of chemical or synthetic based agrochemicals application in agricultural land would continue, human, animal and environmental health concerns would play key roles in driving growth for safer products like plant growth regulators. Specific major drivers for the agrochemicals industry outlined in this report include Increase in arable land, need of increased productivity and adoption of new farming practices. On the negative side, restraints limiting market growth include environmental and regulatory constraints pertaining agrochemical usages, growing demand for food safety and quality, and market saturation.

By segment, biopesticides are likely to witness the faster growth in comparison to the synthetic chemicals in Vietnam, the biopesticide segment will witness the double digit growth during 2015-2020. By product type, insecticides are the largest crop protection chemicals segment in the region, followed by fungicides and herbicides.