Mapa authorizes use of Benzoate Emamectin in Mato Grosso
Views: 33 Author: Site Editor Publish Time: 2017-01-16 Origin: Site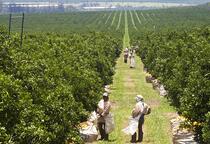 The state of "phytosanitary emergency" caused by an outbreak of Helicoverpa armigera in the Brazilian state of Mato Grosso, the largest soybean producing state, was extended until January 15, 2018.
The decision of the Ministry of Agriculture, Livestock and Supply(MAPA), was published through ordinance number 273 in the Official Union Gazette on December 23, 2016.
The decision authorizes the use of insecticides based on the Benzoate Emamectin even before its definitive release in the country. According to several experts, the substance is the most effective active ingredient to control the plague, but its use has been opposed by environmental activists and the National Health Surveillance Agency (Anvisa), which considers its toxicity beyond tolerable limits.
"This is very good news for cotton growers in the state of Mato Grosso, the largest producer of cotton in the country. Now we need for the Benzoate to be definitively released because it is one of the products that has proved to be more effective to combat this caterpillar. The slowness of this release is fraught with economic, social and environmental risks. Only the legality guarantees the control," affirmed Brazilian Association of Cotton Growers President João Carlos Jacobsen Rodrigues, in a statement.
Technical Director of the Association of Corn and Soybean Growers of Mato Grosso, Nery Ribas was of the same opinion.
"Helicoverpa is present in our crops. In the last season, due to the dry weather, the pressure was lower. The benzoate is a very important tool to combat it and we can use it in an emergency," he said.
According to the coordinator of Projects and Technology Diffusion of the Mato Grosso Cotton Institute, Márcio Souza, the Benzoate Emamectin – for its different mode of action – can avoid the plague by developing resistance to the products available today in the market.
"By introducing a mix of control, we can help to extend the life of insecticides. We need to speed the release of new molecules. The delay is hurting us," he stated.