Embrapa, Corteva Agriscience Sign Agreement to Enhance the Sustainability and Competitiveness of Brazilian Farming
Views: 2 Author: Site Editor Publish Time: 2018-05-25 Origin: Site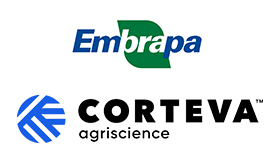 Embrapa, the research arm of Brazil's Ministry of Agriculture, Livestock and Food Supply, and Corteva Agriscience™, Agriculture Division of DowDuPont, signed an agreement to conduct leading-edge research to enhance the competitiveness and sustainability of Brazilian farming.

The research will focus on genomics to improve the pest and drought tolerance of crops, enhance the post-harvest quality of agricultural products and minimize the environmental impact of farming. The latest digital tools will be utilized to support early detection of diseases, and to improve forecasting and modeling capabilities for public and private decision makers.

The four-year agreement was signed by Mauricio A. Lopes, President of Embrapa, and Neal Gutterson, Chief Technology Officer of Corteva Agriscience™, at the Brazil Institute's Woodrow Wilson Center in Washington, DC, as part of a larger program titled "The Agricultural Sector in the Era of Bioeconomy."

Under the terms of the agreement, Corteva Agriscience™ will provide the technology and digital tools and Embrapa will conduct the research.

"Embrapa's top priorities are to increase Brazil's agricultural sustainability and to enhance the livelihoods and competitiveness of its farmers. Genomics and advanced digital tools are two of the most powerful strategies to do that. That´s why we are very excited about the agreement we signed today," said Lopes.

Gutterson added, "Embrapa's experience, expertise and commitment to science-based innovation make it the ideal partner for Corteva. We look forward to working together to create a brighter future for Brazilian farmers and a more sustainable environment for their communities."