China's exports of pesticides +19.4% YoY to USD5.4 billion in January-October 2017
Views: 112 Author: Site Editor Publish Time: 2018-01-23 Origin: Site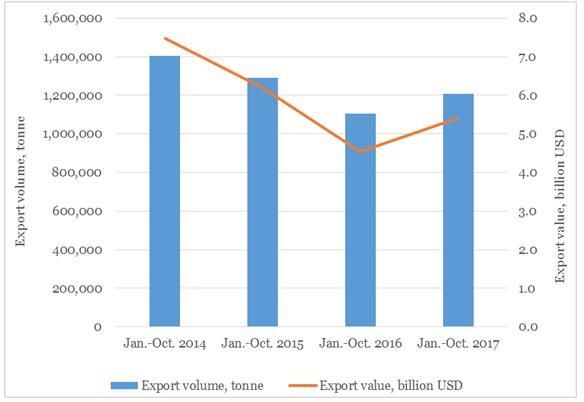 By Think Real - During 2011-2016, China's import/export volume and value both showed increases first and then decreases. In regard to pesticide technical, its export volume presented decreases in the proportion to the total figure while the corresponding export value only had small changes, making up about 60% of the national figure. By contrast, the export value of pesticide formulations rose frequently, accounting for increasing proportion to the total, and the export volume also grew quickly. All this indicated that the domestic pesticide industry has recovered as a whole.
During January-October 2017, China's pesticide exports showed rises in both price and volume. According to the Institute for the Control of Agrochemicals, Ministry of Agriculture (ICAMA), the export volume of pesticides reached 1.2 million tonnes, up by 9.3% year on year, and the export value accordingly was USD5.4 billion, up by 19.4% year on year. Obviously the growth in value was higher than that in volume, which was an indication that the export price went up significantly.
Specifically, China exported 420,294 tonnes of pesticide technical during this period, up by 6.2% year on year, and the corresponding export value was up by 17.6% year on year to USD3.0 billion. Meanwhile, the export volume of pesticide formulations totaled 787,706 tonnes, up by 11.0% year on year, and the value was USD2.4 billion, up by 21.8% year on year.
Distinctly the rise in exports of pesticide formulations was greatly higher than that of pesticide technical. In the future, it may be a trend for China to export pesticide formulations mainly, and the domestic pesticide manufacturers may turn their attention to the end market and achieve the transformation and upgrading.