Argentina bans dichlorvos and trichlorfon
Views: 5 Author: Site Editor Publish Time: 2018-05-25 Origin: Site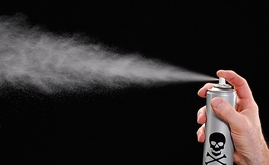 The National Service of Health and Food Quality (Senasa), banned the import, commercialization and use of insecticides/ acaricides based on dichlorvos, which is used on tobacco and grain storage facilities, in keeping with international norms for residue of pesticide.
"The prohibition will be valid in 180 days," stated Resolution 149/2018 of the Senasa, published in the Official Gazette, was valid from May 8, with the ban being effective from early November.
The norm forces companies in the agrochemical sector who register products that contain this active principle to declare their stock within the next 30 days. The prohibition is also extended to trichlorfon, which is not sold now for agricultural use in the country.
Dichlorvos is a product used mostly to control insects in areas of grain storage. Following a 2010 resolution, Argentina tolerated a maximum residue of almost five parts for one million tons grains stored for consumption.
To justify the ban, Senasa argued that these Maximum Residue Limits are "superior to the ones established by the main importing countries of Argentinian products and competing producing countries, which leaves us in a commercial disadvantage in our exports".
Besides this, the dissipation of applications with dichlorvos requires approximately 120 days to reach the residue limit, while the Argentinian grain exports require just 35 days to reach their destination.
The health ministry had banned the use of dichlorvos in aerosol sprays and the formulations of free sales for its home use. However, it has still allowed the use of it for the exclusive purpose of public health, which has proven to be efficient against the assassin bug.
The ban in this sector is extended to the active principle trichlorfon because it can "be converted into dichlorvos by metabolism in plants, as well as by biodegradation of the soil," according to the explanation provided. No products based on trichlorfon are registered in the National Registration of Plant Therapy now.