AgroPages: Top 10 Most Read News in 2017
Views: 115 Author: Site Editor Publish Time: 2018-01-23 Origin: Site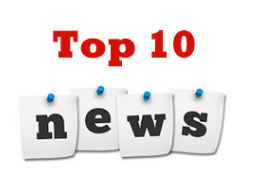 If you are asked to use a few words to describe the agribusiness industry of 2017, which words will come to your mind?
2017 was a meaningful year for agribusiness industry. The concentrated consolidations signal that a new industry landscape is taking shape.
Unpredictable and complex regulatory environments are seen as a key challenge within the industry. And the dynamics of emerging markets are still the focus of attention.
Consolidations, regulation, emerging markets are the main tags we can see from the top 10 most read news of AgroPages in 2017.

1. FMC Corporation receives antitrust clearances needed to close proposed acquisition of DuPont Crop Protection assets
FMC Corporation announced on September 2017 that it has received approval from the Competition Commission of India (CCI) for the proposed acquisition of a significant portion of DuPont's Crop Protection business. The CCI is the final jurisdiction to grant antitrust clearance needed to satisfy regulatory conditions for closing.
2. 2017 China top 100 pesticide technical and top 50 formulation companies released
The list of the 2017 China top 100 pesticide technical companies and top 50 formulation companies was unveiled by the China Crop Protection Industry Association (CCPIA). The global pesticide industry in 2016 was rather depressed, which was also the case in the Chinese market.
3. 26 agrochemical AIs will lose patent protection between 2017 and 2022
There will be 26 agrochemical AIs lose their patent protection between 2017 and 2022, including 13 herbicides,4 insecticides, 8 fungicides and 1 safener.
4. FMC Corporation Acquires Significant Portion of DuPont's Crop Protection Business; Simultaneously Sells its Health and Nutrition to DuPont
FMC Corporation and DuPont announced in March 2017 the signing of a definitive agreement for FMC to acquire the portion of DuPont's Crop Protection business it must divest to comply with the European Commission ruling related to its merger with The Dow Chemical Company.
5. EU to phase out fungicide picoxystrobin
The European Commission has decided not to renew the approval of the fungicide active ingredient picoxystrobin. EU member states shall withdraw authorisations for plant protection products containing picoxystrobin as active ingredient by 30 November 2017 at the latest.
6. India to ban use of 18 pesticides
Acting on advice of an expert committee, the Centre will ban use of 18 pesticides in India as it involves risk to humans and animals. The Union agriculture ministry has issued a draft order, asking manufacturers, importers and state authorities to completely ban 12 of the identified pesticides (benomyl, carbaryl, diazinon, fenarimol, fenthion, linuron, methoxy ethyl mercury chloride, methyl parathion, sodium cyanide, thiometon, tridemorph and trifluralin) from January 1, 2018 and remaining six (alachlor, dichlorvos, phorate, phosphamidon, triazophos and trichlorfon) from December 31, 2020.
7. China approves two more GMO crops for import, DuPont disappointed
China has approved two more genetically modified (GMO) crops for import, the Ministry of Agriculture said, the second such move in the past month to expand access to biotech seeds as part of Beijing's 100-day trade talks with Washington.
8. Thailand plans to ban paraquat, chlorpyrifos and restrict glyphosate
The Thailand Department of Agriculture issued Implementation Guideline for reviewing three pesticides: glyphosate , paraquat and chlorpyrifos.
9. Bayer's acquisition of Monsanto to receive further review by European Commission
The European Commission opened an in-depth investigation into the proposed merger of Bayer and Monsanto in August 2017. The Commission has concerns that the merger may reduce competition in the pesticide, seed and trait areas.
10. BASF's late grab for Bayer seed assets marks strategy shift
BASF SE historically has boasted one of the widest portfolios in the chemicals industry, including products as dissimilar as cassette tapes and ulcer treatment. But it took a not-so-gentle nudge from the $160 billion wave of consolidation sweeping the agrochemical industry for the company to finally embrace seeds.